A Long Faithfulness in the Same Direction
June 5th, 2023 | 5 min read
By Ginny Owens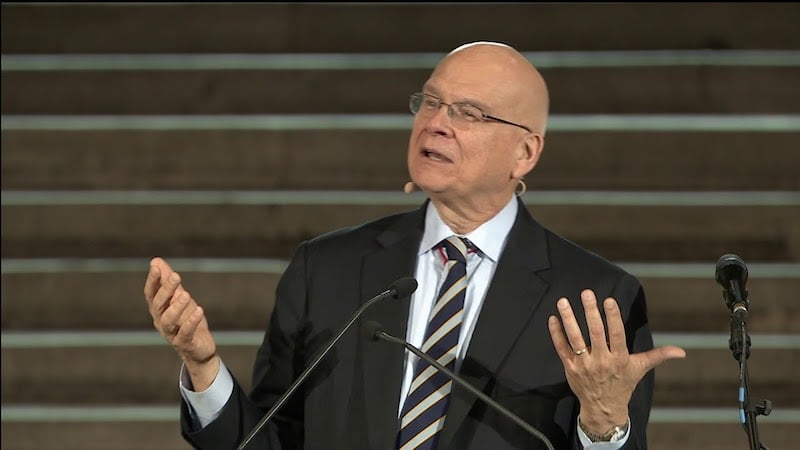 I was eight. Seated at the old, out of tune, upright piano in the back corner of our dining room, I rehearsed again the hymn I'd just discovered how to play. "Great is Thy Faithfulness" has surprising major chords where there should be minor ones, and its soaring chorus melody matches a lyrical explosion of praise. On that day, seated beside me on a dining room chair was my grandfather, dueting with me in his booming voice. Singing with him always brought a new awareness of the meaning of the lyrics. Something about the way he sang them made me feel like they were singing him.
Perhaps it was because we didn't sing together during my high school years that those lyrics temporarily lost their luster. Ten years after that day at the piano, I was off to college, thinking more about my own dreams than God's great faithfulness. I went to church often enough, craving an encounter with God that felt fresh and new—I wanted something different, but I didn't know what. Then one day in 1998, a friend gave me a tape of a pastor from New York City. I was floored. I had never heard anyone explain the gospel like Tim Keller. After a few sermons, I realized he always found clever, beautiful ways to articulate his final point, that we can't do it, but there is Someone who can.
I'm sure I had heard grace preached before, but I had never heard grace preached before. I began traveling the path, as did so many other listeners of Tim's, from thinking my spiritual performances were of some value to God to "repenting of even my good deeds" and resting in the beauty of Christ. I soon had a binder full of sermon CDs and notes. Tim was teaching me aspects of the Christian faith I'd never thought about, like how the way up is down. How being a Christian compels us to pursue justice and love mercy. And how we tend to let the gods of career, money, approval, and even morality separate us from the one true God. That was the beginning of my relationship with Tim Keller and the beginning of a change in my relationship with God.
As I was discovering Tim and these radical new, old concepts, I was launching into a stint of hectic years on the road. I remember making my band get up early to trek to Hunter College to hear Tim preach when we were performing in New York City. His sermon recordings became my only source of spiritual nourishment. He would not have approved. I was not invested in a community where I could work out what I was hearing. And so, sadly, much of it did not take root. Even as I listened to Tim's sermons, I was overworking, chasing an unhealthy relationship, and pursuing other gods that led me to burnout.
After that dark time and during the season of recovery that followed, I spent a summer in New York. I helped lead worship at various churches, including Redeemer, and made lasting friendships—those ideas I'd heard Tim preach about finally started sinking in.
Even as Tim's success grew, his desire for people to know and be changed by the gospel was always center stage. I remember attending the launch party for The Reason for God, during which he shared that he'd be interacting with reviews by addressing them online. In the signing line afterwards, I boldly informed him he shouldn't read reviews. But Tim said responding to them might be a way to more clearly communicate the gospel. That was always his goal.
I contemplated a permanent move to New York City at that time, but the Lord had other plans, including my mom's battle with breast cancer and me assuming new roles as an adjunct professor at my alma mater and worship leader in a local church. It was all preparing me for a new path that would eventually bring me back to New York City and Tim's teaching.
I'd always thought I would end up in seminary at some point, but now I eagerly awaited the opportunity. I wanted to learn how to share with others the good news that had transformed my life, sparked my faith, and healed my burnout. By the time God opened those doors, Tim had retired from pastoring at Redeemer and was teaching full-time. I benefited from that when I moved to New York City and soon enrolled at Reformed Theological Seminary.
I could not have known what I was in for. Every class, even Greek and Hebrew, were delightful experiences of digging deeper into who God is for the world, for the city, and for me. And in my classes with Tim, I learned the theology behind the sermons I'd been listening to for so many years, but I also learned about the heart surrendered to that theology: the heart of a man dedicated to Jesus.
Tim's love for Christ, for his students, for his city, and for the world was inspiring. His desire to do whatever it took—praying, reasoning, listening, preaching—to bring people to faith in Jesus was contagious. Theology that is only theoretical is pretty useless anywhere, but especially in an urban context where Christianity is not a respectable way of life. Through Tim and my other professors at RTS, theological knowledge became immediately practical and useful, and I learned ways to communicate the beautiful news of Christ's life, death, and resurrection with nearly anyone anywhere.
Upon graduating from seminary, I enrolled in Redeemer's City to City program, taking a year of classes in preaching and pastoring. Tim insisted that our ministry depends first and foremost on our inner lives, and boy, was he a shining example of one who displayed grace when squeezed by life. He was quite candid about how his cancer diagnosis had changed his perspective, frequently making casual mention that neither he, nor any of the rest of us, could know how long we had left here. I'll always remember him instructing us how to teach like he does, including that vital point: You can't do it, but there is Someone who has done it for you. That simple yet profound idea still brings me to my knees in praise and repentance.
I'll never forget the evening of February 22, 2023, when it was my turn to present a mini-sermon in class. I knew Tim would be gracious, because he always was, but my nerves were on overdrive. Imagine my relief when I finished and Tim said, "Well, Ginny. That was not only great, but your Christ point at the end was to die for." That's how Tim was with his students: wonderfully encouraging. His gentle spirit, thoughtful reflections, and generous engagement taught us to do the same. He modeled for us what followers of Christ are to be known for—the uncommon blending of humility and courage, of truth and love.
As a member of Redeemer Lincoln Square's staff and prayer teams, I have offered many prayers for Tim's healing and shed many tears since his diagnosis in May 2020. Our staff meeting two weeks ago began with the news that things weren't going well. God had performed miracles with Tim several times before, but we uneasily felt this time might be different. Our prayer team called several special sessions. That Friday morning we prayed for miracles again as we also prayed for that evening's long-planned celebration of all five Redeemer network churches where, we asked, a work of God would be done. A friend texted just twenty minutes later to say that Tim was with Jesus.
Amidst the tears later that night, I stood with three others leading the hymn I had first loved as an eight-year-old: "All I have needed thy hand hath provided; great is thy faithfulness, Lord, unto me." As I listened to the hundreds of voices from all the Redeemer churches praising through tears, I realized we were not just singing the hymn—the hymn was singing us. God had been faithful to Tim, carrying him safely from faith to sight. God had been faithful to our congregations, building us one story at a time and providing this divinely ordained night where the community could celebrate and mourn together. And God had been faithful to me, leading me through surprising seasons of major and minor chords, back to a life with a soaring chorus of praise. We couldn't have done any of that, but there is someone who did.
Thank you, God, for always being faithful, and for using the life and ministry of Tim Keller to teach me, and countless others, how to rest, as he did, in your great faithfulness.